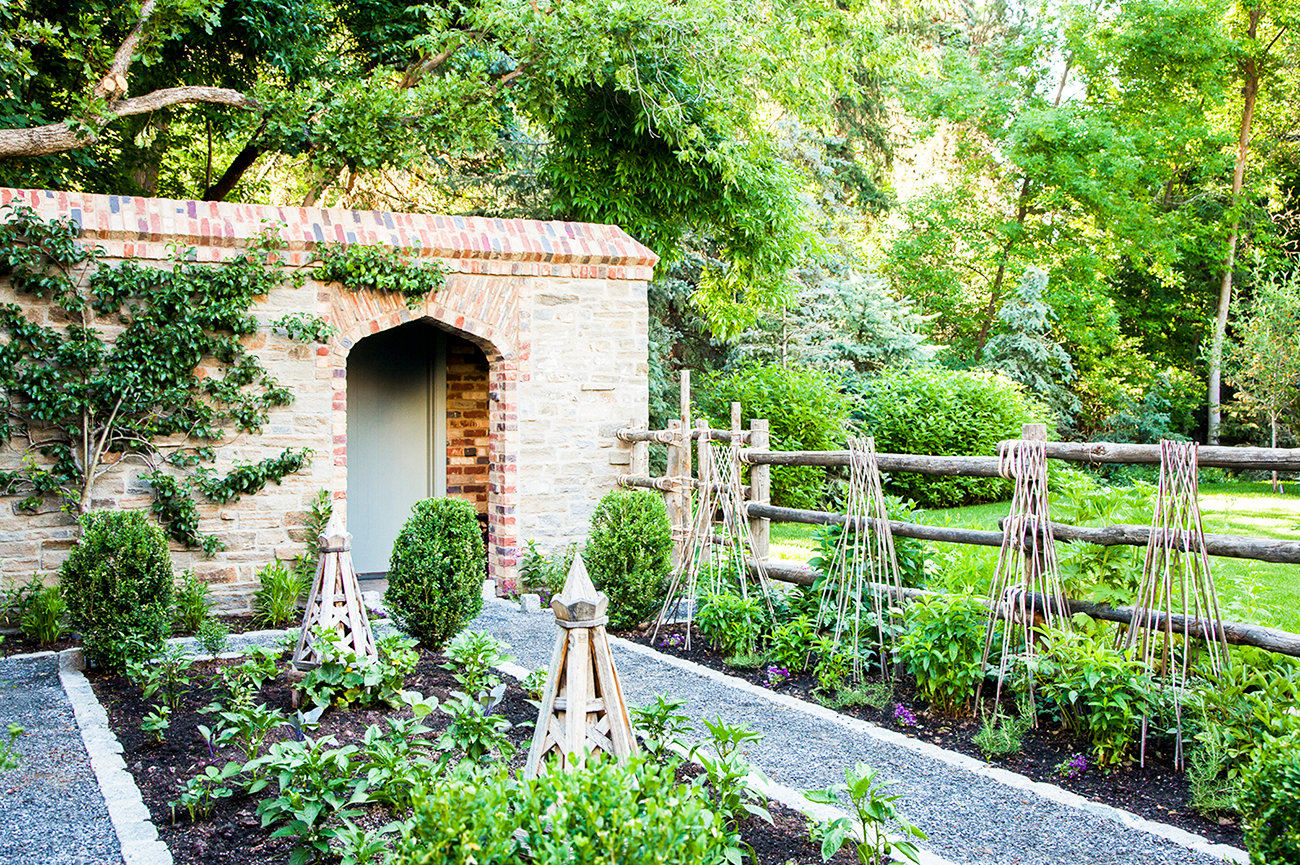 The Secret To Beautiful Landscaping Borders
Curb appeal is real, and while you may think your landscaping is adding to the overall aesthetic of your home, not considering the small details like landscaping borders could be the reason your home doesn't look as polished as others. Landscaping borders shouldn't be an afterthought, but a thoughtful consideration as you design your yard. If you are ready to take your curb appeal to the next level, we have tips and tricks to help you make your yard the envy of the neighborhood.  
Landscaping Border Types
There are two main types of landscaping borders: natural and artificial. As the names suggest, natural borders come from naturally occurring substances like rocks or wood, and artificial are any products like plastic or metal. That may sound like there aren't many options, but the possibilities are endless when you have a vision and the right design team. 
Natural Landscape Border Types
Natural borders for your landscape are plentiful, from stones lining a pathway or pea gravel to wood planks, shrubs, or flowers. We like to utilize natural elements for borders in many of our projects. Using a simple stone to line a garden bed is a great way to keep the focus on the garden while also delineating the space between the lawn and the bed.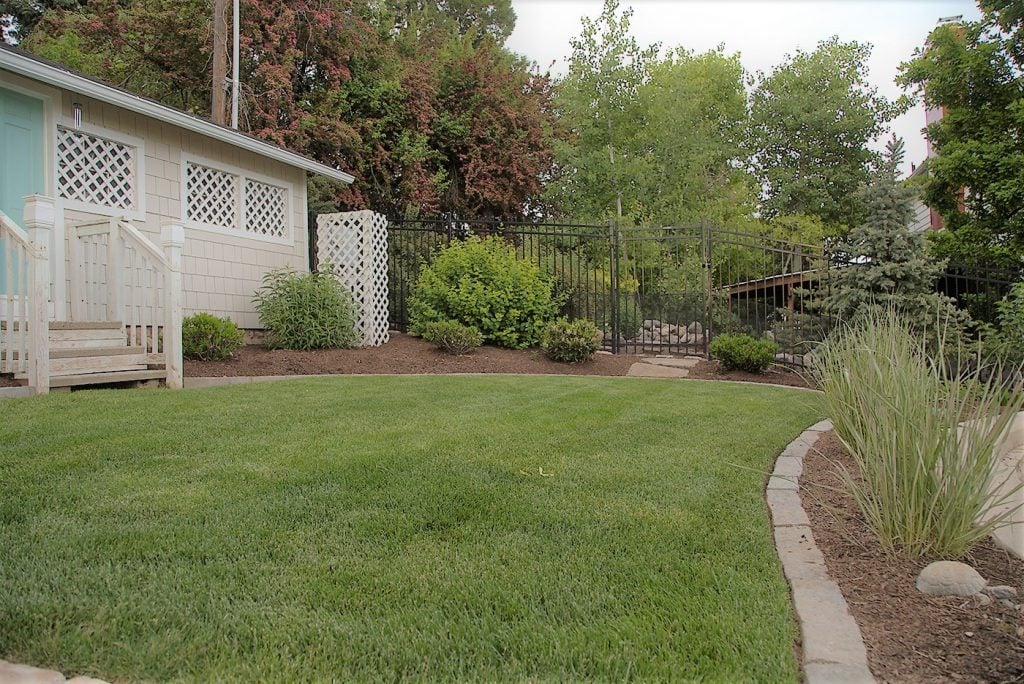 You can also use plants to indicate a border, which is what we did in this charming, traditional garden. 
Artificial Landscape Border Types
For a more modern look, you can use cement with clean lines to create borders and pathways in your landscaping.
Combining natural and artificial elements in this space gave the landscaping a unique look that highlights the home's aesthetic.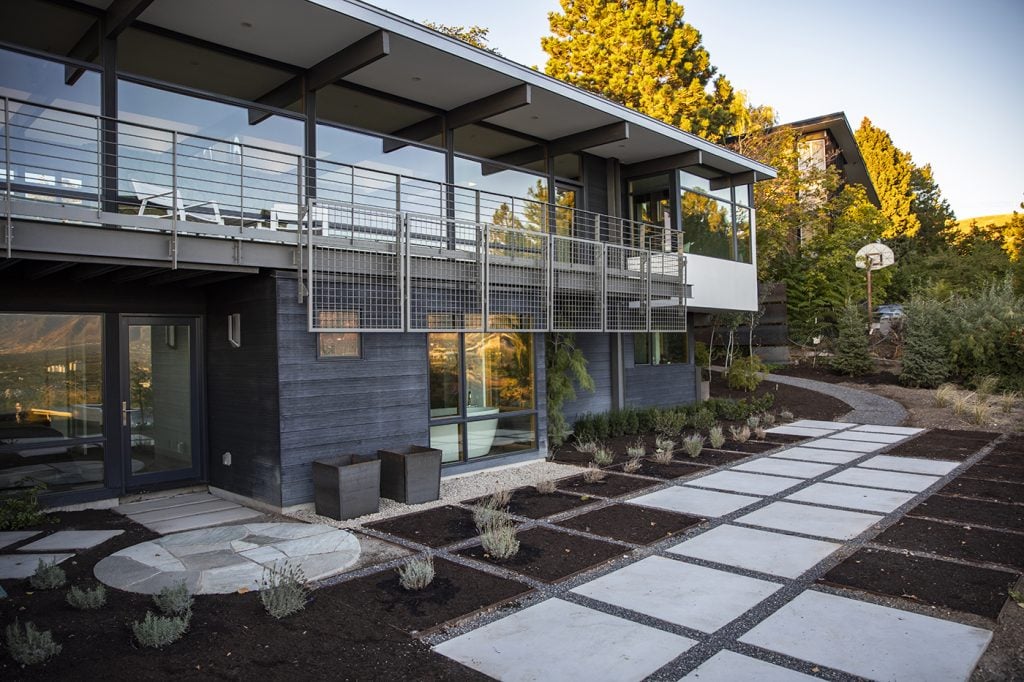 The Benefits Of Using Landscaping Borders
There are many benefits to using landscaping borders, but here are our top three reasons:
Visual appeal. A well-known principle in design is that a border adds interest on its own, but it also highlights the areas it is dividing. When a lawn and garden bed have a divider, it highlights the lawn and the garden, while also showcasing the edging itself. 

Keeps landscaping elements in place. Whether you are trying to keep your mulch from leaving your garden beds and getting onto your lawn, or you are trying to stop invasive grasses from entering your flower beds, landscaping borders help your hard work stay in place. The extra consideration and effort to install borders help protect your garden and lawn long term.  

Easier to maintain. This goes along with our second reason, but it deserves to be highlighted. Whether you are the one doing your landscaping maintenance or you are hiring it out, the process of edging a lawn takes time or money, and by adding a border you reduce the need for trimming and maintenance. 
How To Choose The Right Plants And Materials For Your Landscaping Border?
There's definitely a process for choosing the best landscaping border, and whether you are hiring out your design and installation or doing it yourself, there are steps you need to take to make sure you are investing your time and money well. 
Evaluate the current aesthetic of your landscape
Is your landscape more rustic or natural? Or have you created a modern look with clean lines? Maybe it's more of a traditional garden. You'll want to make sure your landscaping border matches the design of your existing landscape–using the clean lines of a metal border in a classic cottage garden will look out of place. Spend some time looking at landscapes that have a similar style as yours, and then look at the borders. Next, check out our projects. We've designed and installed just about every style of landscape.
Decide how much maintenance you are willing to do
Some borders require more effort in the form of weeding or replacement, while others are less work but might cost more upfront. Deciding how much time you want to spend maintaining will help you filter what types of borders you are choosing from. If you use landscape maintenance services, you have more options because you don't have to find time to do the maintenance yourself. 
Consider your budget
Measure your borders then add 10% of the length to the total, and you'll have the length you need for your landscape border. Some borders are easy to DIY, but others may require a professional, which adds costs. 
Look at your climate
What plants grow well in your grow zone? What is the weather like year-round? Do you need something that can withstand lots of precipitation? Or maybe your area has a problem with invasive species, and you'll need to figure out how to keep those at bay. This step is crucial, and hiring a professional might be worth the cost to ensure you are getting specialized care for your specific climate. 
Pick your material
After you've decided on the style you like, the maintenance you are willing to do, your budget, and the type of climate you have, you can pick the best material for the job. Natural stone is always beautiful, but can be on the more expensive side and might require professional installation. Plastic edging is cost-effective and you can DIY it, but it isn't always the best for creating a statement that matches your existing style. Wood is pretty, but needs to be replaced every decade or so unless you treat it often, and even then in wet climates, it can deteriorate quickly. Metal is a good option, but again can be more expensive and require professional installation, and you have to consider how the elements might change the look of the metal over time. There's no one-size-fits-all solution, but you can find the best solution for your particular landscape, especially if you enlist help from a professional. 
Landscaping Borders For Every Home
Our portfolio and social media are packed with all kinds of ideas and landscaping features, so we've found some of our favorites to show a variety of landscape borders and compiled them here for you. The possibilities are endless, and we can help you find the perfect border for your specific home. 
Rocks And Boulders
This natural backyard wanted to incorporate elements that would make you feel like you are in your own mountain oasis.  We used boulders, rocks, and pebbles to line the space between the pond and the patio, enhancing the natural feel of the space while giving clear borders to the two areas.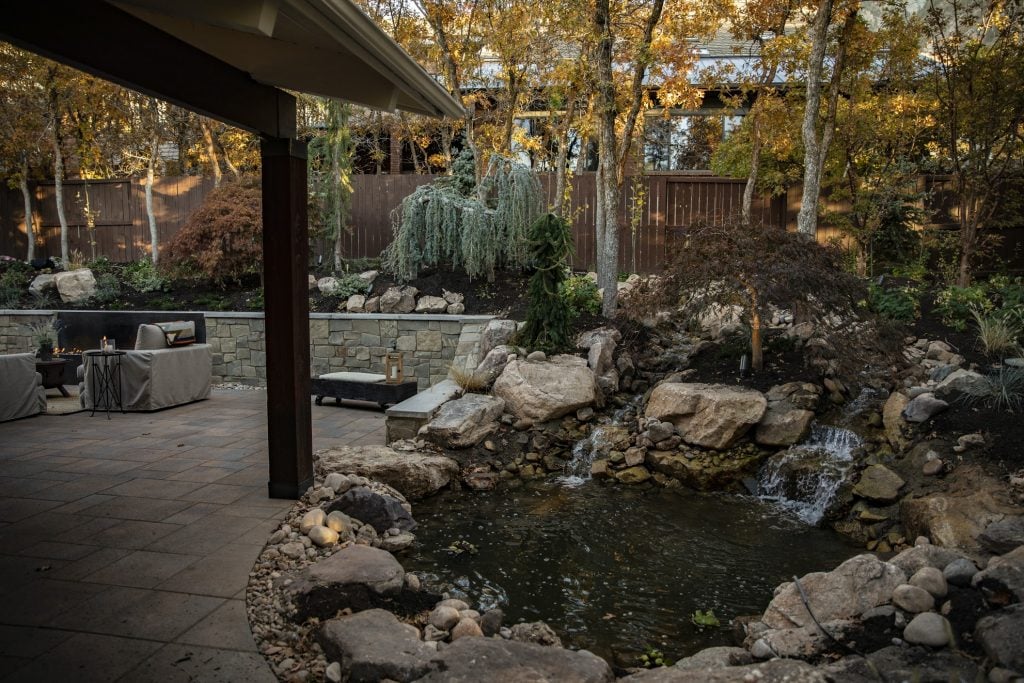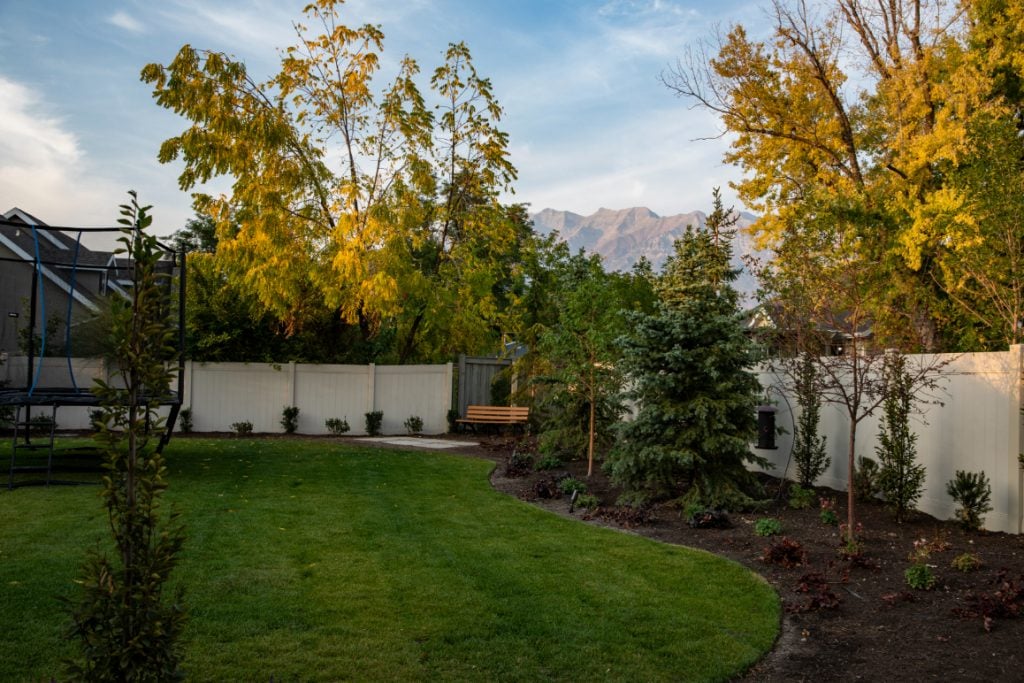 This backyard is a family-friendly, no-nonsense space, and that's why a simple black plastic border was the right call. A rocky border may have been a safety issue for a family with small kids, and anything too high or hard could be a tripping hazard. For this space, the low profile plastic gives clear delineation between the garden bed and the lawn, but helps keep the maintenance and stitches minimal. 
Greenery, Pebbles, And Boulders
Our client wanted a xeriscaped yard, but that doesn't mean there is no room for greenery or borders. In fact, we combined both when we added these shrubs to the border of the top level of this space. Alternating the species of the shrubs helped add interest, and in a few short seasons, this will be a filled-out border for the backyard. 
Stone Paver Borders For A Flower Garden
Using low-profile stone pavers in this yard as a landscape border, this space has the visual interest of stone while not taking away from the garden itself. These stone pavers will help keep the dirt and mulch in the garden beds and keep invasive grasses out of the garden.
Stacked Natural Stones
These stones are beautiful, and stacking them adds dimension while also supporting the levels in the garden. Adding stones to a garden bed for visual interest is a great way to give your garden multiple levels.
Modern Planters And River Stones

This border for a modern landscape combines black metal planters, gray river stones, and stunning green shrubs. The clean lines and neutral colors give contemporary vibes while adding green to the walkway.
Big Rock Landscaping: Your Utah Landscaping Design Experts
Deciding on the best landscape border for your yard isn't as simple as you think, and no one knows the importance of choosing the right border better than the team at Big Rock Landscaping. We've created landscapes that feature every design aesthetic out there. From clean modern homes to traditional Tudors, we've found the perfect landscape border for each home. Our process is a series of steps we've crafted using our combined decades of experience. Finding the perfect landscaping border for your yard just got a lot easier. Contact us today to get started!