Rock The Block With These 5 Landscaping Fountain Ideas
Have you just returned from a trip abroad to Italy and are still pining over the grand cobblestone piazzas and water features they have tucked around every corner? If only you could transport the Trevi fountain into your backyard…Not to worry, this may not be Italy, but some parts of Italy do have a desert climate similar to Utah, and a water feature is a great idea. Not sure where to start, and need a little eye candy for inspiration? We'll explore five types of water fountain designs that, while not as grand as the Trevi fountain, will rock your neighborhood block.
Before You Start On Your Landscaping Project
If you're anything like us, when we get a landscaping idea, we want to jump right in and get our hands dirty. But before you start breaking ground on a landscaping fountain for your front or back yard, you'll want to take some time to map out a plan and educate yourself about the scope of the project. Don't skip the planning stage–it will save you big headaches in the long run. As the wise Benjamin Franklin once said, "By failing to prepare, you are preparing to fail." This simple guide will help you prepare to succeed as you tackle the task of designing the perfect water fountain for your home. 
It may go without saying that all water fountains are not created equal. They come in many different shapes and sizes and (rest assured!) There are suitable water features for virtually any home style and aesthetic. First, think about the size you have available. Is it more suitable for a small fish pond or trickling fountain, or do you have space to create a waterfall wall or a meandering stream running through the backyard? Compact or grand, horizontal or vertical, consider what type of water fountain will complement your current space and aesthetic. Next, consider what types of materials you want to use. Will you incorporate natural elements, tie into your existing landscaping features (think pool), or do you prefer hard lines to create some contrast to a yard overflowing with organic material? Having a general idea of what you want will help you hone and refine your design once you start looking for water features inspiration.
5 Fountain Ideas That Will Make You See Green (With Envy)
Now that you've got a general sense of the size you have available, it's time for the fun stuff. Picking a style of water fountain that will really bring your outdoor space to life. We love to share ideas, and we've got some fun ones to inspire you to get creative.
Water Wall
One of the many benefits of a rock water fountain is the wonderful restorative calm and peace that running water can bring to an otherwise still landscape. Not only does this rock wall draw your eye to this spot, but the three spouts of running water suggest completeness while creating soft moving lines that are visually appealing.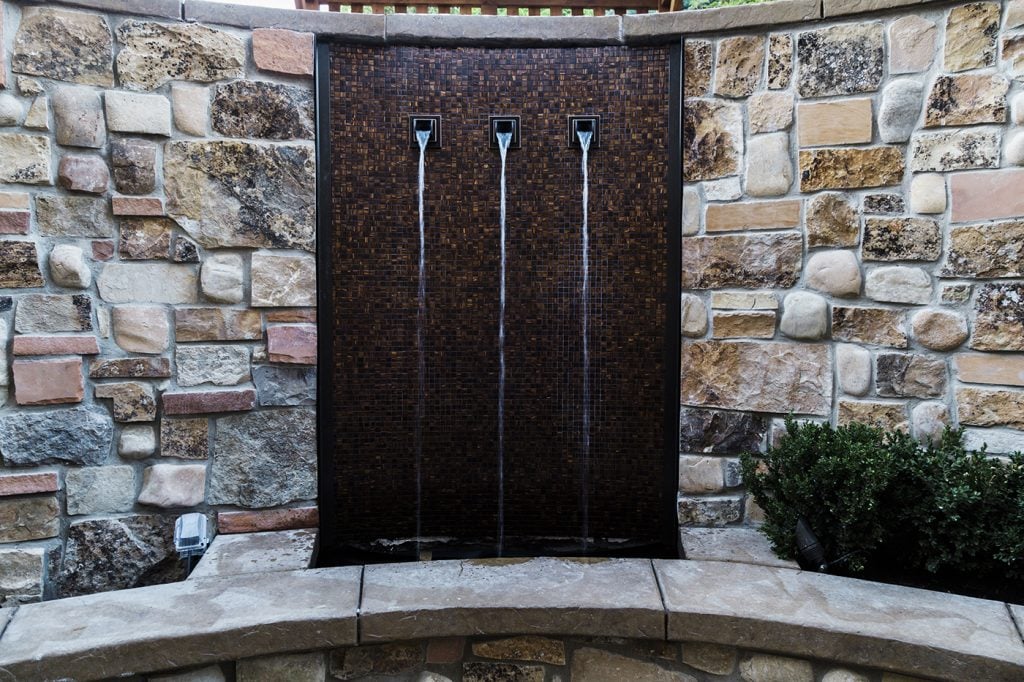 Combine A Water Feature With Your Pool
Another wonderful way to add a water feature to an existing landscape is to add onto landscape elements that are already in existence. For example, if you have a pool, consider creating a cascading water feature like the one shown here, to give this space a luxurious feel and soften the hard lines of the stone hardscape. But the benefits aren't just visual. Surrounded by green, feeling the cool air rising from the water feature will calm the spirit and put the mind in a more meditative state.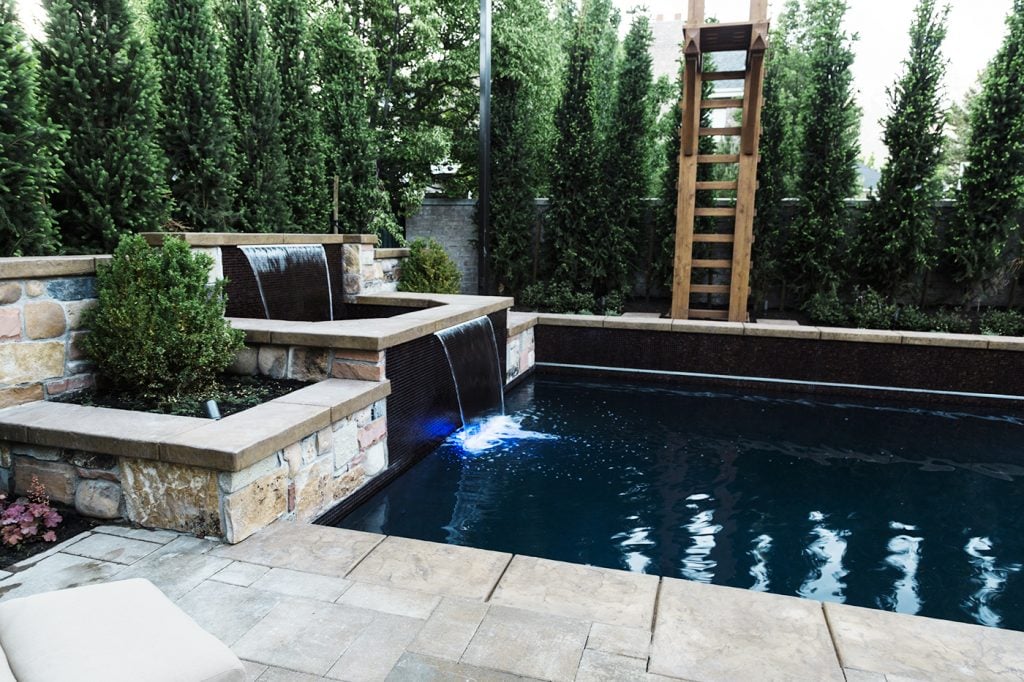 Build A Natural Rock Fountain That Feels Like A Stream
If you have a bit of land that you can play with, consider making your water feature feel like it existed long before you came along. By embracing natural elements, this water feature is seamlessly incorporated into the existing landscape. Springing from a natural rock fountain and cascading effortlessly down the hill, this water feature will make you feel like you are among the mountain streams of Switzerland, rather than the high desert. 
Make An Artistic Statement
If you have a small space, but still want the feel and look of a water feature, never fear. One of the best ways to accomplish this is to create an artistic fountain that makes a statement. Like this rock structure–it does double duty as a work of art and a water feature. It makes a big impact without taking up much space.
Build A Pond
While technically not a fountain, small and large ponds do qualify as water features. If you've got a bit of land, consider transforming some of it into a small pond that can attract a wider ecosystem to your property. While you might not get the sound of running water to calm your nerves, you'll get the reflective surface with fluid movement that changes with the wind that will welcome all sorts of winged creatures, like birds and butterflies, to stop by and say hello.
Regardless of how big or small your property is, don't be afraid to dream big. And if you have big dreams, but you don't happen to have the emotional stamina to follow through, don't give up. Hiring a landscaping professional is a great way to leverage existing expertise to bring your designs to life. 
Is Designing And Building A Landscaping Fountain Not Your Thing?
Designing and building your landscaping fountain is not a task for the faint of heart. You must be familiar with a variety of materials and understand how these will interact and withstand outdoor elements over time. You'll need to be familiar with building codes and be willing to work with city officials to get the design that you want approved through the appropriate channels. Not to mention creating the actual design, verifying the engineering, and restoring the surrounding landscape after the project is completed. This is a major undertaking. Why not let a professional do the work? 
Here at Big Rock Landscaping, we've got a stellar track record. We play well with others, and we are known for our outstanding customer service that keeps our customers coming back for more. Your satisfaction is of paramount importance. With Big Rock Landscaping, you're in good hands, because we love a good landscaping project where we can dig in and get our hands dirty. If designing and installing a water fountain seems a bit out of your reach, contact us today. We've been known to make dreams come true!