Rock Walls Landscaping Services Overview
Designing, let alone installing, a rock wall feature in your yard is no small feat- between planning, excavating, digging, leveling, and then finally laying the rock, it's a job most homeowners shouldn't tackle alone. Whether you need a retaining wall to level out a slope, a rock wall backdrop for your pool or you simply want the stunning visuals of a natural stone wall, Big Rock Landscaping is the only choice. Our expertise at designing and installing rock walls of all sizes not only requires skilled installation, but years of experience with considering factors such as drainage, leveling, anchoring, backfill, and trench depth. We've seen (and installed) it all, and we can take the guesswork and grunt work out of building a rock wall in your landscape. Leave this job to the professionals and enjoy the benefits of a rock wall without the sore back.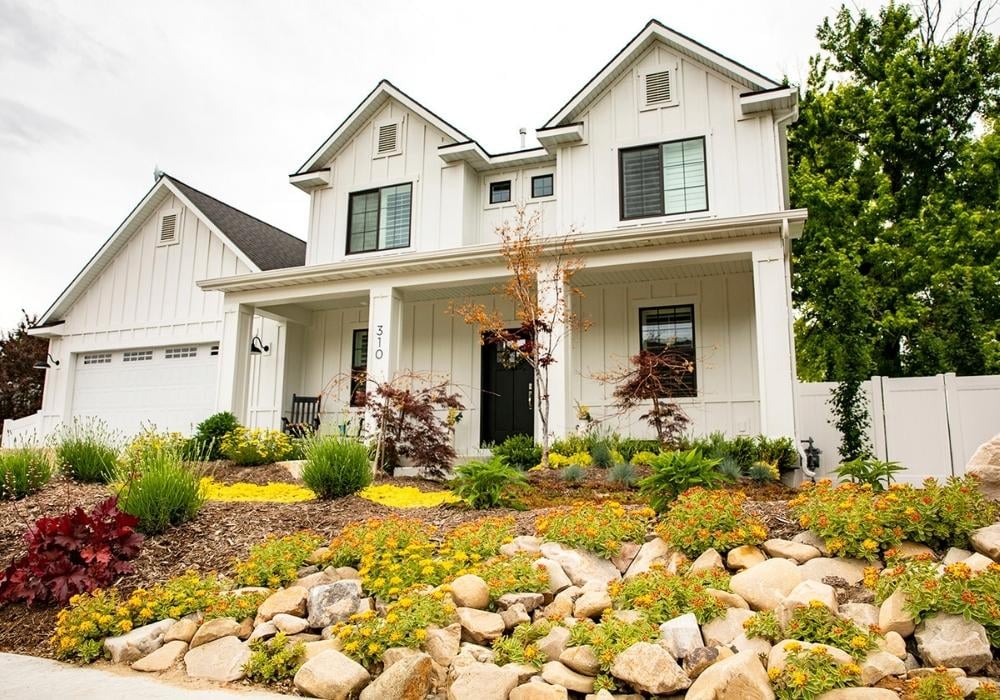 Our Rock Wall Landscaping Services Features
We know there are many landscaping companies you could choose for your rock wall design and installation, but we aren't any landscaping company. Over and over, our clients tell us that our creative vision and professionalism, and that is especially true with our rock wall design and installation.
Anyone can claim that they install rock walls, but what makes Big Rock Landscaping your best choice for rock wall installation is our unmatched vision and innovation. Our passion for creating incredible outdoor spaces drives us to create a rock wall design that enhances your landscape. We will bring our best ideas and innovations to your design, every step of the way.
Our expertise when it comes to installation will save you money and heartache. Planning, preparation, and careful engineering are critical to adding a rock wall to your landscape. Our team takes pride in creating a rock-solid (pun intended) element of your yard you can enjoy.
We've designed and installed a huge variety of rock walls, from aesthetically pleasing rock walls with staggered rocks sourced from the local area, to high retaining walls cut into hillsides to level out a landscape for a pool. We've seen and done it all, and our skills are exactly what you need to ensure your rock wall project is seamless and beautiful.
We offer unique and beautiful rock wall design, professional installation, and the promise that your back won't ache from weeks of work and your backyard will be the oasis you deserve.
Benefits Of Our Rock Wall Landscaping Services
When we say we offer premium rock wall installation services, we don't make that claim lightly. We offer premium Rock Wall Landscaping Services to help you have the outdoor space you deserve without the headache. You'll find yourself gravitating to your yard after we have installed a stunning rock wall feature, and the enjoyment will be exponentially greater because you are sure the workmanship is high quality.
When you choose Big Rock Landscaping for your rock wall installation, you are choosing an arsenal of ideas and expertise that make your life easier and your yard more beautiful. Between our years of experience and passion for stunning landscape, we bring landscaping to life when we plan your outdoor space.
Offering a variety of services including rock wall installation, we can see the whole picture of your yard and plan accordingly. Whether you want to overhaul the whole space or you just want to add a rock wall as an aesthetic feature, we use our creative and holistic approach to create the perfect rock wall for your space.
We take the guesswork out of planning and the backache out of installation. When you choose us you don't have to worry about the structural integrity of your rock wall. It's more than just your yard, it's your oasis—a place for you and your family to unwind. Make sure your rock wall is well planned, beautiful, and safe by using Big Rock Landscaping.
Our clients routinely tell us that they love working with our team because of our innovation, passion, and professionalism. We are the landscapers you've been looking for when it comes to rock wall installation.
Big Rock Landscaping offers premium landscaping design and installation for any landscaping project. We create beautiful outdoor spaces for families and friends to create lifelong memories by bringing innovation in design and quality workmanship to every project. We will help you achieve your dream yard with rock wall design and installation without the headache and worry other landscaping companies often cause. We are premium for a reason, you can expect the best when you work with our team.
Request A Bid For Our Rock Wall Landscaping Services
You are ready to get your rock wall installed, and we are ready to utilize our passion and expertise to help that dream come true. We want to help you have the peaceful backyard you deserve without the exhaustion and overwhelm of designing and installing your own rock wall. Our team is ready and waiting to help you enjoy your yard, contact us today for a bid to get your dream started.